Here are some of my favourite stylish Christmas jumpers and tops for this season. I love the Nordic designs with 100% wool fabrics.
I am on the hunt for two new Christmas Jumpers for this year's Christmas festivities, but one that is stylish and modern for some Christmas gatherings in the pub and for Christmas Day with friends.
The Christmas Jumper has evolved from the gimmicky Jumper with flashing Rudolph nose to a stylish and classy item worn with pride. As soon as I put my Christmas Jumper on I am in the Christmas spirit.
You can still make a donation to the Children in Need Christmas Jumper Day that was on the 12th December.
There are loads of lovely Jumpers so I have selected fourteen of my favourites for 2021. I love the Nordic style Jumpers they make me think of Christmas in the snow.
1. John Lewis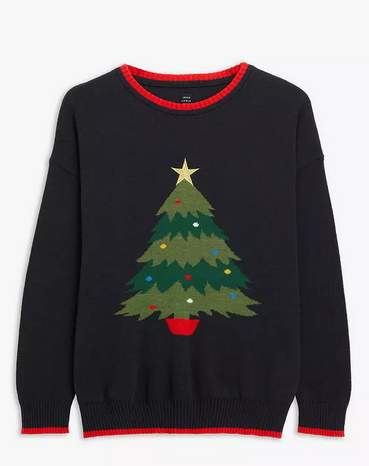 First stop is John Lewis just to see their collection from different designers. There are plenty of gorgeous knits on offer for different budgets ranging from £29.99 to £379. This one featured in the Christmas TV Advert. It is simple and gorgeous. A perfectly understated and priced jumper for Christmas.
 Image: John Lewis
2. House of Fraser – Max Mara

Second browse is House of Fraser as again stock a wide variety of designers so you can get a broad selection. I love this one by Max Mara, feminine and Christmassy.
Image: House of Fraser
3. Zalando – by Mango

Christmas jacquard sweater by Mango, this is your classic Christmas Jumper design with the reindeer and snowflakes, and I just love this one. Red is a great stand out colour for Christmas and I love the traditional prints.
Image: Zalando
4. M & S
This jumper stands out due to the bright colours and print design. There are lots of other designs with dogs and robins which are more modern. M & S offer the best prices for the quality you get.
Image: M & S
5. Fatface
Found this beautiful Christmas scene jumper by Fat face in the Sale for just £25.00. The colours are beautifully famine and soft.
Image: Fat face
6. Next
Next have a range of nice Christmas Jumpers but I pulled out this one with the Mummy reindeer with her baby, it just sums up Christmas for me. I love the sequinned Antlers.
Image: Next
7. Asos
ASOS have a good range of Christmas Jumpers but most of them are now out of stock, need to get in early next year as they offer a nice modern take on the Christmas jumper. I have picked my style again, skiing in the mountains style.
Image: ASOS
8. White Stuff
The Christmas Jumper can by subtle, not covered in sequins and snowflakes, this gorgeous cardigan by White stuff is classy Christmas and it is beautiful.
Image: White stuff
9. Not on the High Street

This modern sweatshirt caught my eye, a bespoke design from Not on the High Street. Certainly, worth checking out this website as the prices are reasonable compared to the High Street Stores and you could pick up something more original.
Image: Not on the High Street
10. Joules
Joules have a nice range of Christmas Jumpers, Christmas pj's and other Christmas goodies for Men, Women, and kids. Their designs are unique and fun. I love this one with the dachshund tangled in the Christmas lights.
Image: Joules
11. M & Co
We have an M and Co store in our town, some of the designs are really sweet with loads of Children's Christmas Jumpers. I picked out this one as it was sparkly and quite unique.
Image: MandCo
12. Monsoon
Monsoon don't have many Christmas jumpers but there are lots of lovely seasonal tops. This one is nice and subtle with stars for those that are not keen on the Reindeer jumpers.
Image: Monsoon
13. Coast
This top is a bargain at only £10.00 so I good top
Image: Coast
14. Norlander
Image: Norlender – Osterøy Nordic sweater (341)
I just love the Nordic designs, but the real Nordic Jumpers are often made from 100% wool like the Osteroy Nordic Sweater by Norlender. Great for skiing or a winter holiday.
Conclusion
It wouldn't be Christmas without a Christmas Jumper it sets the occasion. It doesn't need to by 'tacky'; most shops are creating really modern and fun designs to suit everyone.
Joules is a great example of 'tasteful' Christmas Jumpers. It makes me smile when I am out Christmas Shopping seeing all the Christmas Jumpers on display, it is all about getting into the festive mood, letting your hair down and having some quality fun time with those you love. For me it has become part of the Christmas tradition, along with the Christmas slippers and the glass of Baileys.
As we head into Christmas with the Omicron and Delta variants still rife in our society, let's make the most of our time with friends and loved ones.
Merry Christmas xx
Did you find this interesting?